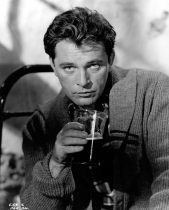 Returning to cinemas is the classic Kitchen sink drama from director Tony Richardson. An uncompromising story of martial strife compounded by class division, Look Back in Anger was a defiant battle cry from Woodfall Films and a fitting first venture for the cinematic upstarts who sought to bring the rage of the Angry Young Men from the stage and page onto the screen. It began life as a play at The Royal Court in 1956: a controversial run that launched the "Angry Young Men" label into the public consciousness courtesy of the Court's marketing department, and a production that brought two of Woodfall's founders – writer John Osborne and director Tony Richardson – together for the first time.
Jimmy, a disaffected university graduate living in an industrial Midlands town, kicks back at the social establishment around him and the middle-class aspirations of his wife, Alison. Earning a scant living as a local market trader, Jimmy is increasingly bitter about his situation while Alison faces the brunt of his resentment. Their already troubled marriage reaches a crisis point when an old friend of Alison lodges with the couple and soon becomes the object of Jimmy's aggression and attention.
The film stars a young Richard Burton, Claire Bloom and Mary Ure. It will be back in cinemas on the 30th of March.
Images courtesy of Park Circus/ Woodfall
Editor-in-Chief at Moviescramble. A Fan of all things cinematic with a love of Film Noir, Sci-Fi and Julia Roberts in Notting Hill. He hopes to grow up some day.
Latest posts by John McArthur (see all)