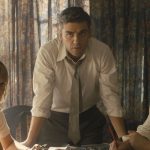 "My job was simple. Save the country I love from being destroyed. Is your job any different?" The chilling words of the architect of the Holocaust, Adolf Eichmann, echo over the opening scenes of the Operation Finale trailer; a ticking sound emphasising each syllable.
With a wave of his glove, Eichmann (Sir Ben Kingsley) condemns another collective of Jewish people to death. Set fifteen years after the end of World War Two, director Chris Weitz brings to the screen the true story of Mossad agent, Peter Malkin (Oscar Isaacs) who embarked on a covert mission to Argentina to capture Eichmann and bring him to justice.
Master composer, Alexandre Desplat, provides the emotive score for the film, which counts Inglourious Basterds' Melanie Laurent, Nick Kroll and Greta Scaachi amongst the cast. It looks to be a visually striking piece of cinema, as well as one that will, no doubt, offer up plenty of food for thought.
Operation Finale is due for release in UK cinemas on September 14.
Latest posts by Mary Palmer
(see all)