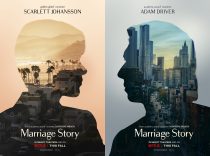 Just out are two teaser trailers for the forthcoming Netflix drama Marriage Story. The teaser trailers are noted as companion pieces which focus on the two sides of a marriage that is in the throes of ending. They are seen from the perspective of the two people at the heart of the drama, Charlie and Nicole. The teasers give a real flavour of the mood and style of the film and tell much about what to expect with the trailer titles of 'What I love about Charlie and 'What I love about Nicole'.
The film marks the return of Noah Baumbach, this time working alongside Netflix on a film that will receive a limited cinema run as well as being made available worldwide via the Netflix app. Baumbach noted that the film is "a love story that reveals itself within the breakdown. With these companion trailers I wanted to show the relationship through the eyes of both characters. There are many sides to every story, and the movie embraces these different viewpoints in order to find the shared truth."
The film has an absolutely stellar cast headed up by Scarlett Johansson and Adam Driver with support from Laura Dern, Alan Alda, Ray Liotta, Julie Hagerty, Merritt Wever, Azhy Robertson, Wallace Shawn, Martha Kelly and Mark O'Brien.
Marriage Story will be released in cinemas and online via Netflix this Autumn.
Latest posts by
John McArthur
(see all)