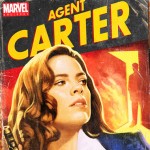 Ahead of the premiere of Marvel's Agent Carter we are treated to another peek at what we can expect from the much-anticipated series. In the clip, Carter (Hayley Atwell) and Howard Stark (Dominic Cooper) are having a discussion that could possibly shape the course of the series.  We are introduced to Jarvis, the trusted butler of Howard Stark, who will do doubt play a significant part in the adventures of Carter and her team.
Agent Carter will premiere on US television on the sixth of January.
Editor-in-Chief at Moviescramble. A Fan of all things cinematic with a love of Film Noir, Sci-Fi and Julia Roberts in Notting Hill. He hopes to grow up some day.
Latest posts by John McArthur (see all)