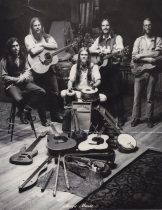 The first trailer for a rockumentary with a bit of a difference, given that it has taken four decades for it to make it to the screens. Magic Music is one of the most fondly remembered bands of the Boulder Revolution of the late 60s and early 70s. Living in a makeshift camp up in the mountains, they would delight local residents and university students with their original songs, acoustic instruments, and light harmonies; their growing popularity brought them to the brink of success more than once. Unfortunately, they never signed a record deal and eventually broke up in 1975.
40 Years In The Making: The Magic Music Movie chronicles how one of their greatest fans, acclaimed director Lee Aronsohn, tracked down the original band members four decades later to tell their story. More importantly, he makes a dream come true for himself, fellow fans, and the band, by bringing them all back to Boulder for a sold-out reunion concert that preserves their legacy for posterity.
The film is released in New York on the 3rd of August and L.A. the following week. A full nationwide and hopefully international release will follow. If you are looking for more information on the band and the movie you can find it at https://www.magicmusicmovie.com/
Editor-in-Chief at Moviescramble. A Fan of all things cinematic with a love of Film Noir, Sci-Fi and Julia Roberts in Notting Hill. He hopes to grow up some day.
Latest posts by John McArthur (see all)