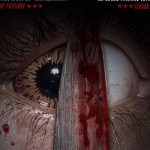 Billed as a tribute to the Italian film genre of Giallo, Deep Shock will be the fifth film by Italian director Davide Melini.
For those not up to speed with what Giallo is; imagining an Italian Hitchcock film along the same vein as Psycho will get you close. Add in some excessive gore, brutal murders, expressive music, a bit of sex and you're pretty much there. Giallo films are thrillers, established in the sixties, and having garnered a cult following of dedicated fans, many of whom will be excited at the prospect of Melini's new project.
The title Deep Shock, is itself inspired by two horror movies by Italian directors: Dario Argento's Deep Red and Mario Bava's Shock, both also coined as part of the Giallo genre.
Melini appears to be staying true to the genre, exploring the themes of madness and paranoia as we follow the protagonist Sarah, trying to come to terms with the deaths of her grandfather and older sister, as she embarks on a strange journey of apparitions and murders, apparently caused by her mind.
Crowdfunding has already begun for this project which is set to be shot later this year. You can keep up to date on it's progress by visiting their Facebook page and their IMDB page.

Latest posts by Michael Mooney
(see all)